About Us
FashionInsightJobs.co.uk is a great place to start your search for jobs in the fashion and beauty industry. The jobs listed on FashionInsightJobs.co.uk cover PR & Communications, Marketing, Media, Retail, Interns and Graduates.
For Jobseekers
Upload your CV
- It's free!
- Let recruiters find you based on your preferences
Sign-up for Job Alerts
- Be one of the first to hear about jobs that match your requirements
- Create personalised job alerts today
For Recruiters
Fashion Insight can help recruiters reach a targeted audience of fashion and beauty industry professionals. With over 4,100 subscribers including PRs, journalists, freelancers, marketers, retailers, designers, creatives, graduates and much more, our jobs board is ideal for industry specific and niche job vacancies.
- Reach over 15,000 visitors per month
- Quick and easy to set up
- Post online using your credit card
- Advertise jobs from only £55 + VAT per job
TARGET MARKET

STATISTICS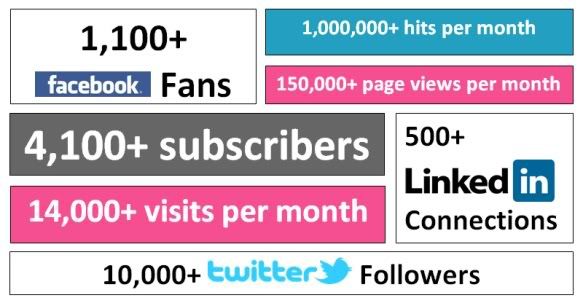 SOCIAL MEDIA CHANNELS
TWITTER (10,000+ Followers)
LINKEDIN (500+ Connections)
FACEBOOK (1,100+ Fans)
PRICES
1 x Standard Job
Featured on our Weekly Job Alert
Featured on our iPhone app
Distributed via our social media channels
= £55 + VAT
= £66
BULK PACKAGES
5 x Standard Jobs
Dedicated Job Alert
Featured on our iPhone app
Distributed via our social media channels
= £235 + VAT
= £282
10 x Standard Jobs
Dedicated Job Alert
Featured on our iPhone app
Distributed via our social media channels
= £435 + VAT
= £522
TESTIMONIALS
"Brilliant site with a great response received from job posts. Thanks!" Iheartfashion Ltd
"We had a great response to the job post!" Fuel PR
"Thanks so much for posting my intern placement, we have managed to find someone" Woodthorpe Communications